History
"Our greatest reward has been knowing the great people we have met through the years."
---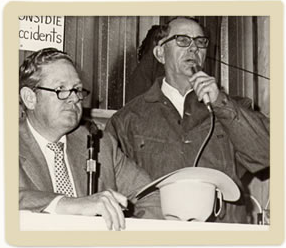 Recorded as the Silver Brook Farm by the County Clerk on November 28, 1914, the original homestead of 480 acres was settled by Frank Oscar Cooper. He raised farm animals and harvested a large garden before losing the land during the Great Depression. After receiving a Land bank loan for $200/year, Frank repurchased the land. In 1946, his son Jack bought the land and continued to run a general farming operation for several years.
Jack Cooper purchased his first foundation stock – 15 Line One females – from the U.S. Range Livestock Experiment Station in 1947. At that time, Jack's brother-in-law, Dr. Ray Woodward, was a Line One Project Leader at the Experiment Station in Miles City, MT. He ultimately convinced Jack and his half-brother Leslie Holden to become involved in this closed line of breeding.
Shortly after Jack's initial purchase, with the understanding that he could improve his stock by keeping precise records and breeding animals with desireable traits, Jack began number branding and performance testing his cattle. By the time the Montana Beef Performance Association was formed in 1957, with Jack as a charter member, he had ten years of experience with Line One Herefords and performance testing. Jack later joined the American Hereford Association's "Total Performance Records" program in 1960.
In 1977, after studying Ag-Production at Montana State University, Jack's son Mark returned to Willow Creek permanently to assist with the ranching and farming operations. Mark began actively working with registered cattle as a teenager under the tutelage of his father. He and his wife Cristy now manage the ranch which consists of over 4,500 acres.
Performance testing remains a vital tool on our ranch. We continue to select our cattle for moderate birth weights, performance, milkability, and positive carcass traits. Over the years we have worked hard to produce quality cattle for our customers. Our greatest reward has been in knowing the great people we have met through the years.