Jess Herbers was on a mission when he left Virginia and headed to our bull sale in 2010; find a Hereford bull to bring home and incorporate into his breeding program. This was no small task, considering "home" is Daltons on the Sycamore, a ranch and program well known in the Angus seedstock business. As manager of Goose Creek Valley Farms (the commercial herd at Daltons on the Sycamore) Jess was looking for Hereford genetics that could help him produce outstanding commercial cows.
Although he's only a few years into this endeavor, Jess is pleased with the results. He's seen advantages in conception rates and fleshing ability on the Hereford-sired heifers and cows, and advantages in calf vigor, average daily gain, feed conversion and cost of gain on the Hereford sired calves.
Click here to read the full article featured in the January issue of Hereford World.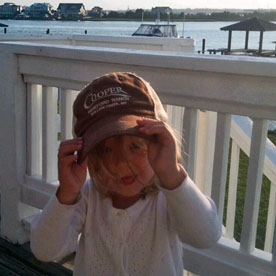 Lil' miss Aubrey Herbers sporting her Cooper Hereford hat ; )
Making the Best Cow
Registration #: | DOB: //